[Others]
Free Return Air Ticket to Korean (Brisbane - Incheon)
Contents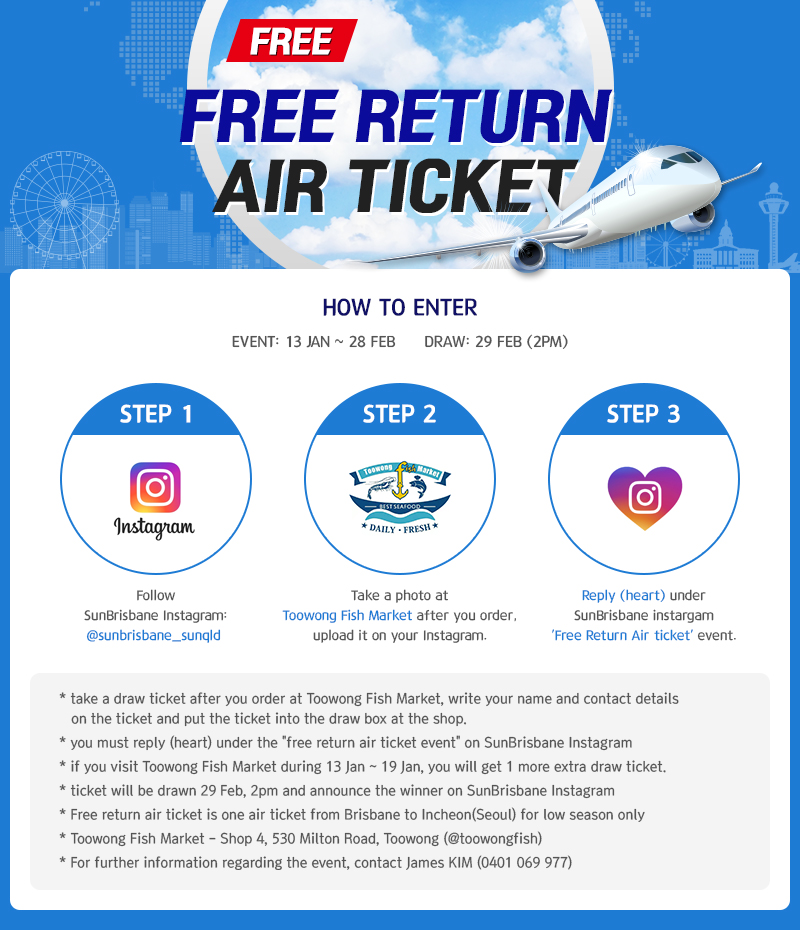 ​
​
Free Return Air ticket Brisbane - Incheon (Seoul)
How To Enter
Step 1. follow SunBrisbane Instagram:  @sunbrisbane_sunqld 
Step 2. take a photo at Toowong Fish Market after you order, upload it on your Instagram.
Step 3. reply (heart) under SunBrisbane instargam 'Free Return Air ticket' event 
Event: 13 Jan ~ 28 Feb
Draw: 29 Feb(2pm)
* take a draw ticket after you order at Toowong Fish Market, write your name and contact details on the ticket and put the ticket into the draw box at the shop.
* you must reply (heart) under the "free return air ticket event" on SunBrisbane Instagram
* if you visit Toowong Fish Market during 13 Jan ~ 19 Jan, you will get 1 more extra draw ticket. 
* ticket will be drawn 29 Feb, 2pm and announce the winner on SunBrisbane Instagram
 * Free return air ticket is one air ticket from Brisbane to Incheon(Seoul) for low season only
* Toowong Fish Market - Shop 4, 530 Milton Road, Toowong (@toowongfish)
* if you enroll the school during this event from Eduyoung and Ozfair, you can also get the draw ticket
* For further information regarding the event, contact James KIM (0401 069 977)